March 31st- Recapping our Member Town Hall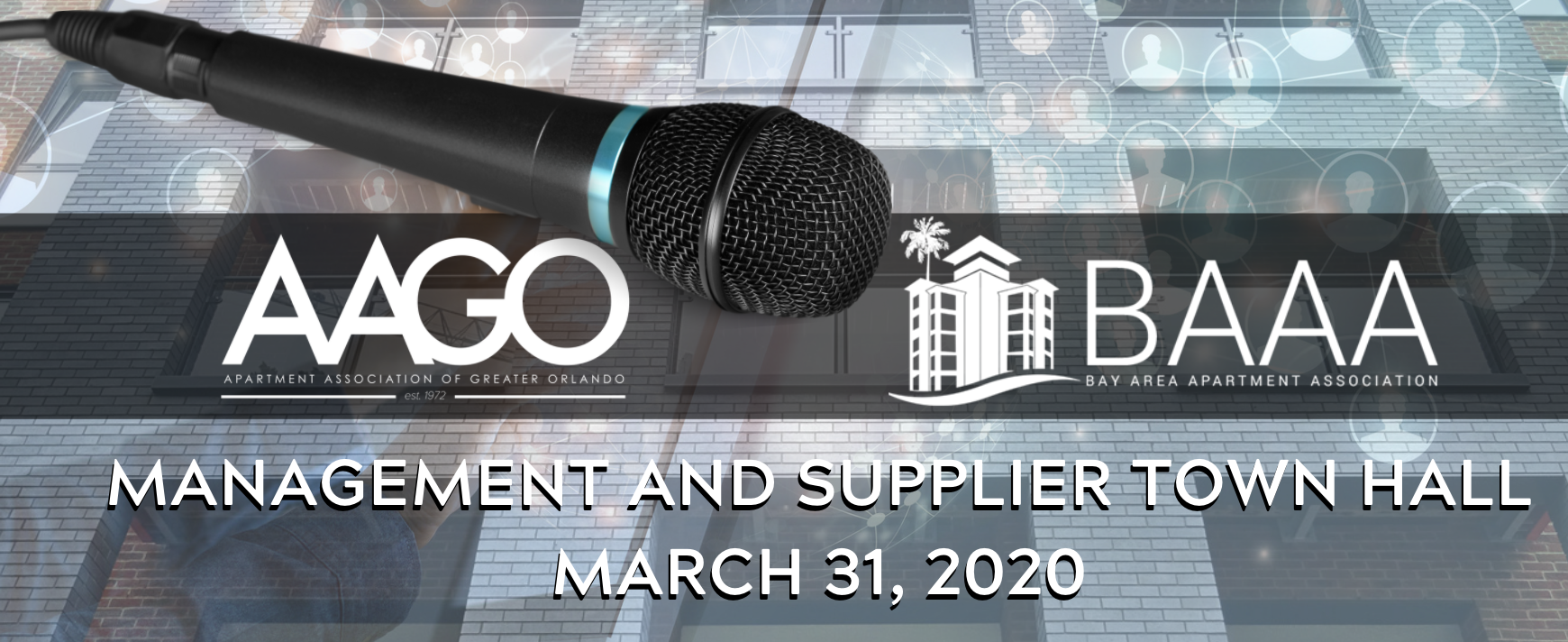 The recapped information is outlined according to the Town Hall agenda provided below. To jump down to information specific to a respective agenda item, simply click the title.
---
Town Hall Agenda
---
Please note, none of the information found in this recap or coinciding resources highlighted throughout intends to serve as legal advice. The Florida Apartment Association (FAA) and the Apartment Association of Greater Orlando (AAGO) highly encourage you to consult with your legal counsel on matters related to these.
---
As highlighted by both Association President's, the goal of this Town Hall was to give members an opportunity to navigate these uncharted waters together, below you'll find a few resources available to members.
Virtual Learning and Engagement

- In an effort to help members transition into our e-world, we've created a variety of free, virtual learning opportunities that will be taking place throughout the next few weeks. You can explore those offerings through the AAGO education calendar, accessible here (future Town Hall's are available here as well).

COVID-19 Information

- We've created an entire blog category dedicated to COVID-19 resources. All resources are accessible via the COVID-19 Resources drop-down, located under the News tab (please note, some resources require member login).
AAGO
BAAA
Russ gave a brief overview of the current status of the Coronavirus in Florida, outlining the following:
County Case Overview (as of April 1, 2020- 5:18 PM)
AAGO
| | |
| --- | --- |
| Orange | 392 Cases |
| Osceola | 115 Cases |
| Seminole | 109 Cases |
| Lake | 67 Cases |
| Volusia | 80 Cases |
BAAA
| | |
| --- | --- |
| Hillsborough | 309 Cases |
| Pinellas | 170 Cases |
| Polk | 76 Cases |
| Hernando | 24 Cases |
| Highlands | 17 Cases |
| Pasco | 43 Cases |
| Sumter | 52 Cases |
| Citrus | 19 Cases |
| Manatee | 58 Cases |
| Hardee | - |
| DeSoto | 7 Cases |
| Sarasota | 82 Cases |
While finalizing this Town Hall recap, Governor Ron DeSantis announced he will issue a statewide Stay at Home Order to go into effect Friday, April 3, 2020.
Services deemed essential are detailed by guidance released by the U.S. Department of Homeland Security in its Essential Critical Infrastructure Workforce.

This list of Essential Services will be made available on Florida's Division of Emergency Management website and the Florida Department of Health's website and are accessible here.
FAA Government Affairs Director, Amanda Gill gave Town Hall attendees a great rundown on some of the recent Executive Order activity coming from Governor DeSantis.
Located on the FAA website, there are several EO overviews with coinciding recommendations that are available to members. You are encouraged to share these with your residents, as well as utilize them internally.

Additionally, AAGO has created an Executive Order Resource that continues to be updated in real-time, highlighting key points in all issued statewide EOs.
A few Executive Order highlights included:
EO #20-83 asks individuals 65 and older, as well as, those with underlying health conditions to take the necessary steps to limit their exposure to COVID-19.

Additionally, it also recommended that individuals with the ability to work from home should do so.
FAA members who have been in contact with their employment attorneys/labor law associates have been encouraged to notify all employees about this EO.

Several Orders relate to individuals traveling to the State of Florida, from places with substantial communal spread (i.e., New York, New Jersey, Connecticut, and Lousiana) to self-quarantine for 14 days.
EO #20-87 called for the closure of all short-term vacation rentals. There are several notable exemptions included in this order including:

Rentals where the check-in day is no later than March 28th,
Renting to people who are preferring essential services directly related to COVID-19, and
Renters not engaged in vacation activities.
Our Government Affairs and Legal Counsel, Lee Steinhauer, gave an update on local government activity, outlining the following Stay-at-Home Orders currently effect.
Orange County: Stay-at-Home Order
Osceola County: Stay-at-Home Order
Seminole County: Social Distancing Restrictions
Lake County: Social Distancing Restrictions
Noting that although considered an essential service or business, doesn't make anyone immune from COVID-19, so it's extremely important to adhere to the CDC's social distancing guidelines.
BAAA's Government Affairs Director, Eric Garduño, gave an overview of local government activity outlining the following orders and actions relating to the Coronavirus.
Hernando County: Government Closures
Hillsborough County: Safer at Home Order
Manatee County: Beach Closures
Pasco County: Social Distancing Recommendations
Pinellas County: Safer at Home Order
Polk County: Social Distancing Recommendations
Sarasota County: Beach Closures
In several of our Orders, there's a provision that requires essential services/businesses to maintain six-feet in distance (employee-to-employee & employee-to-individual).
---
Essential Services FAQ
"Do employees need to carry around some sort of letter explaining that they are essential?"
AAGO- It is a good practice and is certainly not a bad idea. Many employers have opt-ed to do so, but in our markets at least, we have not seen the Sheriff's Department stopping employees to ensure compliance. We strongly recommend you to act responsibly and enact good practices.
BAAA- For Hillsborough and Pinellas, we've actually received word that, no you do not need documentation validating an essential service employee.
---
Evictions
Many Sheriff Department's are no longer processing Writ of Possessions, and at the federal level there is currently a 120-day moratorium on evictions, so we're seeing a trend across the board to address the uncharted financial implications of this crisis.
The Florida Supreme Court administered an Order suspending Writ of Possession through April 17th, somewhat vague, county clerks are taking it upon themselves to interpret this. Choosing to either "OK" moving forward with processing Writ of Possessions or not.
We

strongly

encourage you to consult with your landlord/tenant attorney.
Q:" What can the industry do to help educate renters in terms of maintaining their financial commitment to their lease if they have the means to do so?"
A: Both associations are working to develop quick-reference resources for you to provide to your residents to address this.
Many communities have handled this on a case-by-case basis, but have opt-ed not to advertise the waiving of late fees and have provided information to our residents in regards to this.
Additionally, many are making sure their leasing team and mangers are well-equipped to address questions relating to this manner.
Q: "Have companies/communities modified any of your standards/expectations for your supplier partners that are coming onsite, working in units and throughout the community? Have you deemed any essential?"
A: A handful of companies have begun doing this. We have gone to emergency work orders only and have developed a Q&A for maintenance to use when going to enter an occupied unit.
Q: "For folks working onsite, have companies/communities implemented "shift" or "team" work (i.e., Team A works MWF, Team B works TH?)"
A: Several attendees chimed in and said yes, they've begun implementing something to this effect, that way if someone tests positive or ends up being exposed, you don't end up losing your entire team and still have employees in place that can support the property.
Q: "Are there ways for supplier partners to remotely, support on-site and management professionals better during this time?"
A: Communicating with the community manager to ensure their needs are being met, would be a good way to facilitate that given this can be very community-specific.
Q: "When do you think it may be reasonable to expect amenities to reopen? Are others worried about them being closed too long and not having enough resources available to residents?"
A: This is a complicated situation with a local layer, state layer, and federal layer in terms of CDC guidelines. We're in uncharted territory and everything is so up in the air right now, I don't think we can give a definite, let alone fairly confident answer.
Q: "How do we handle a resident notifying us that they are positive or have symptoms mirroring those of COVID 19?"
A: We

strongly

recommend making the Florida Department of Health your first call. We have created a Federal/State/Local COVID-19 Quick Reference Page that lists contact information for our 5 County Health Departments.

They should be able to give you guidance and help you with the "next steps" you may want to pursue.
Poll #1- Do you feel like you have a better operational "handle" on the COVID-19 crisis today than you did this time last week?
Yes- 88%
No- 0%
Unsure- 12%
Poll #2- What percentage of your employees are currently working remotely due to the pandemic?
100%- 6%
90%- 3%
80%- 3%
70%- 9%
60%- 6%
50%- 6%
Less than 50%- 50%
NONE- 18%
Poll #3- Which of the following positions are working remotely predominantly or entirely? (Multiple Choice)
Senior Management Team- 74%
Corporate Support (accounting, HR, training, etc.)- 85%
Regional VP or Manager- 74%
Account Executive or Sales Team- 38%
Community Managers- 18%
Leasing Team- 6%
Maintenance Team- 3%
Poll #4- How confident are you that your company/community will be able to make the operational adjustments necessary to weathering COVID-19 with little disruption?
Very Confident- 38%
Moderately Confident- 32%
Somewhat Confident- 26%
Not at all Confident- 3%
Poll #5- Is your company or community currently hiring for new positions/personnel and filling said positions?
Yes, despite the crisis, we are still in need of new talent and are actively adding new positions. - 24%
Yes, we are hiring, but not adding new positions unless absolutely essential. -24%
Yes, we are filling some, but not all, current openings. -15%
No, we have a short-term (less than 60 days) freeze on hiring until we have a better understanding of the potential financial implications of the Coronavirus. -21%
No, we are not hiring at this time. -18%