Preventing Apartment Fires
Preventing Apartment Fires Begins with YOU.
In case of emergency dial 9-1-1 immediately.
This page is not designed to be a comprehensive resource for fire prevention, but rather a basic source of information and quick tips for preventing fires in apartment homes. For more comprehensive or technical information please consult with your local fire department officials.
---
As part of their Topical Fire Report series, FEMA and the U.S. Fire Administration released data collected from 2013 to 2015 pertaining to Multifamily Residential Building fires. According to the report's findings, from 2013 to 2015, 109,700 multifamily residential building fires were reported to fire departments each year. These fires caused an estimated 405 deaths; 3,975 injuries, and $1.4 billion in property damages or loss. Multifamily residential building fires accounted for 29% of all residential building fires. 45% of apartment fires tend to happen in the evening hours between 3:00 pm and 10:00 pm. Be sure to ask your community about important fire safety features, so in the case of an emergency, you're fire-safety prepared.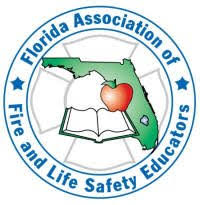 Small confined fires account for 71% of multifamily residential building fires.
The top preventable causes of apartment fires
1. Cooking
2. Smoking
3. Unattended Candles
---
Fire Safety Tips
Below are the top three causes of preventable fires in apartment homes and tips for how to avoid these common pitfalls.
Cooking
When cooking, stay inside the kitchen at all times and closely monitor the oven and any items on the stovetop.

Children should be at least 3 feet from the stove.

Never pour water on a grease fire

.

In this case, you should cover the pan using a lid

, shut off the heat,

and leave the pan on the stovetop until the pan cools to room temperature.
Smoking
Whenever possible, you should smoke outside of your apartment home.

Never smoke in bed or after taking a medicine that makes you tired.

Always put

your

cigarettes out all the way before disposing of the butts in the trash.

Make sure you consult with your property manager/landlord, and refer to your lease agreement, to ensure you are familiar with the community's smoking policies. Many apartment communities and rental homes are designated as "non smoking" through programs such as the Smoke Free MultiHousing program.
Candles
Blow out all candles when you leave the room or go to bed.

Never

light a

candle if oxygen is used in the apartment home.

Keep all candles at least 12 inches away from anything that can burn and out of children's reach.

Consult with management and your lease agreement about policies regarding open flames and candles.
General tips
Check your smoke

alarms

and replace the battery as needed

or purchase a 10-year battery smoke alarm

. If you live in rental housing and your smoke alarm needs attention or is malfunctioning please report the issue to onsite management or your landlord.
Never touch or hang anything from a sprinkler head in your apartment home.

Take the opportunity to familiarize yourself with your community's fire safety equipment and emergency exit procedures.
The charts below show the leading causes of structure fires and highlight the heightened risks of fires occurring in apartment communities.
Topical Fire Report (2013-2015) Table 4. Leading Areas of Fire Origin in Nonconfined Multifamily Residences
| | |
| --- | --- |
| Areas of Fire Origin | Percent (unknowns apportioned) |
| Cooking Area, Kitchen | 33.2 |
| Bedrooms | 12.9 |
| Common Room, Den, Family Room, Living Room | 6.1 |
| Exterior Balcony, Unenclosed Porch | 5.6 |
| Bathrooms | 4.6 |
| Laundry Area | 4.6 |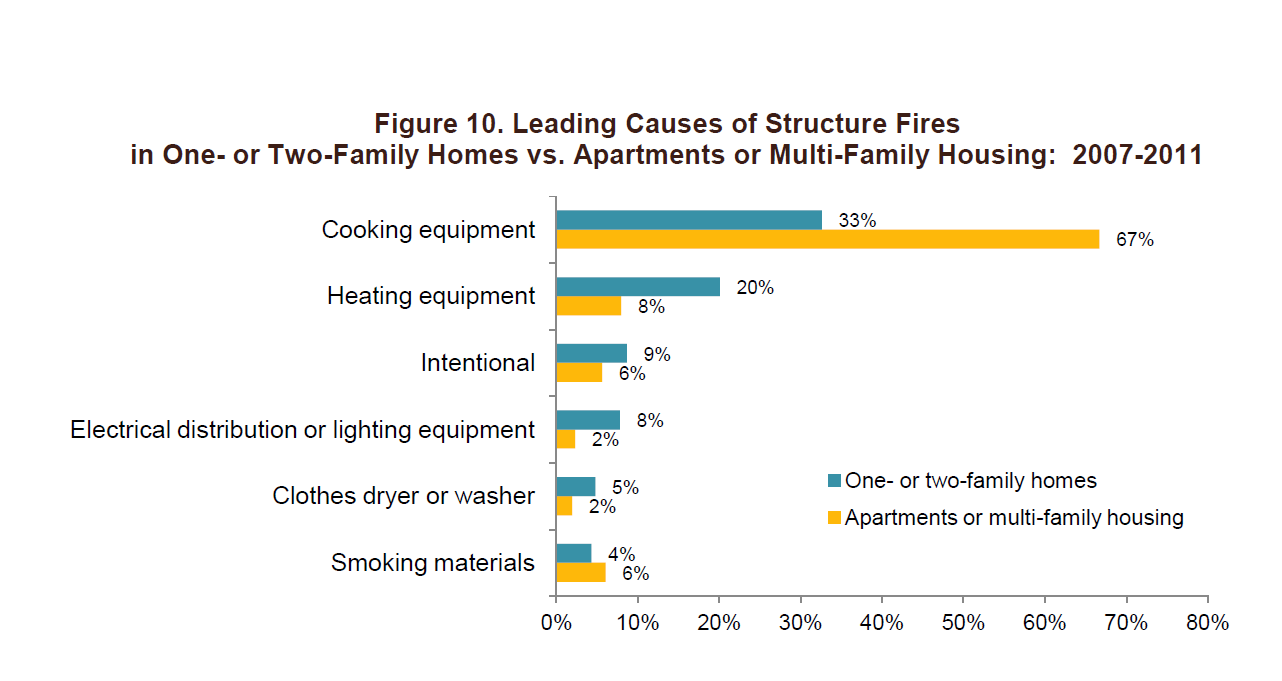 Stay up to date with your county's fire emergency and safety information

---
Check out some of the links below for additional resources that can help you in the event of an emergency.
Multi-Family Residential Building Fires
Center for Fire Statistics Annual Report
As a reminder, please refer to your lease agreement for your community's policies regarding smoking and open flames. If you are uncertain about your community's emergency procedures or how to use the fire safety equipment, please contact management for assistance.