WYNTK: Florida's Presidential Primary & Polling Locations
Date posted
March 17, 2020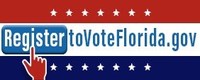 In the face of COVID-19, Florida's Primary may seem like background noise, however, if you still plan to fulfill your civic duty, below are a few resources that may prove helpful.
---
Today is voting day! Usually an exciting time, today may prove a bit confusing, as many polling locations close or relocate to combat the spread and protect some of the state's most vulnerable populations from COVID-19. Across the state, Supervisor of Elections offices are scrambling to provide voters with accurate polling location information. Below are a few resources to help you verify your polling location and get in and out with ease.
About Florida's Primary
Remember, Florida is a closed primary election state.
A closed primary allows only those voters registered with major political parties to vote for their respective party's candidates. Simply put, in order to be eligible to vote in Florida's primary, you must be registered with a majority party (i.e., Republican or Democrat). So, if you are registered as a Republican, you must vote for a Republican candidate, similarily, if you are registered as a Democrat, you must vote for a Democratic candidate.
General Polling Information
Polls will be open statewide today from

7:00 AM- 7:00 PM

.

Voters can save time at their designated polling locations by voting during "off-peak" hours.

Reported off-peak hours:

9:00 AM- 11:00 AM and 1:30 PM- 4:00 PM
Here, as well as at, Florida's Department of Elections website, you can check your voter registration and voting eligibility status. Information populate should allow you to access your designated polling location, sample ballot, and vote-by-mail ballot status.
Please note, for the most accurate information in regard to relocated or closed polling locations, we encourage you to use your local Supervisor of Elections office to ensure you have the most up-to-date information.
Find your County Supervisor of Elections Office Website, here.
Below, visit your County Supervisor of Elections website to verify that you have accurate, designated polling location information.
Orange County Supervisor of Elections
Osceola County Supervisor of Elections
Seminole County Supervisor of Elections
Lake County Supervisor of Elections
Volusia County Supervisor of Elections