Here's Day 1 of the Mid-Florida Housing Summit!
Date posted
October 6, 2020
Tuesday, October 6, 2020
Below, we've compiled some key takeaways from our Day 1 Summit Sessions. For a full playback of each session, session slide decks, and additional Summit resources, click here.
---
9:00 AM- 10:00 AM | State of the Market
Sponsored by RediCarpet!
Presenters
Christopher Bruen, Director of Research, The National Multifamily Housing Council (NMHC)
Jordan Brooks, Lead Market Analyst, ALN Apartment Data, Inc.
Key Takeaways from the State of the Market Presentation
Rent collections are down, just over 1% compared to the same time last year.

Labor Force Participation and Unemployment

Orlando-Unemployment took a bit longer to begin its downward trajectory, peaking in April and May before officially declining in June. At its peak, Orlando's unemployment peaked at just over 20%.
Tampa- Unemployment began its downward trajectory in early May with unemployment peaking at about 13%.

Nationally, net absorption is down compared to previous years (2018, 2019).

Average Rent and Occupancy (per unit)

Orlando

Occupancy: -2%
Effective Asking Rent- $1,280

Tampa

Occupancy: -1%
Effective Asking Rent- $1,250

Moving forward, new supply will continue to impact market performance.
Market Conditions and Viability Looking Ahead

Continue to monitor the status of the new construction pipeline
Regional needs, with net-in migration
Importance of expanding central Florida's industry diversity
---
11:00 AM- 12:00 PM | Multifamily Developers Panel- Is the pipeline flowing or slowing?
Sponsored by DMI Paving & Sealcoating!
Moderator - Mark Ogier, Principal, ContraVest
Panelists
Kurt Kehoe, VP of Development, NRP Group
Mike Mulhall, Managing Director, DHI Communities
Shawn Wilson, President & CEO, BlueSky Communities
Key Takeaways from the Multifamily Developers Panel
During Q&A, each of the panelists offered an "inside look" at the various moving pieces that must come together to "make the numbers work" and get a project off the ground.
As our region, state, and nation continue to address the housing affordability crisis, developers- affordable, conventional, and market-rate- are tasked with staying up-to-date with local policy and changes thereto, that impact the funding, design, and more, of a project's viability.
For an affordable developer, making the numbers work can be especially challenging. They must compete for finite funding sources.
Pandemic Impacts

The pandemic has created a more cautious lending environment which in the short term, may make some markets more vulnerable to project timeline prolongment.

Market Rate/Conventional

- May rethink the structure of a project's moving parts to account for property taxes increasing at higher than normal levels.

Affordable/Mixed-Income

- With HUD setting income limits, affordable developers may see 2-3 years where there are no increases in rents.
Moving forward, a market's rent growth, coupled with new or changing local government regulations or fees will severely impact the financial viability of a project, as well as, its affordability.
---
12:00 PM- 1:00 PM | Special Report: The True Cost of Housing
In September, the Florida Apartment Association (FAA) in partnership with HR&A Advisors, Inc. released a comprehensive, 44-page report that examines and identifies affordability cost drivers of multifamily housing in Jacksonville, Miami, Orlando, and Tampa.
Presenter
Amanda Gill, Director of Government Affairs, The Florida Apartment Association (FAA)
Key Facts and Takeaways from the Florida Apartment Association's Special Report on the True Cost of Housing
Orlando Metro Region's Annual Need for Multifamily Development- 9,000 units.
Tampa Metro Region's Annual Need for Multifamily Development- 5,000 units.
Florida needs to add approximately, 48,000 apartment units to keep pace with current demand.
Overview of Multifamily Rent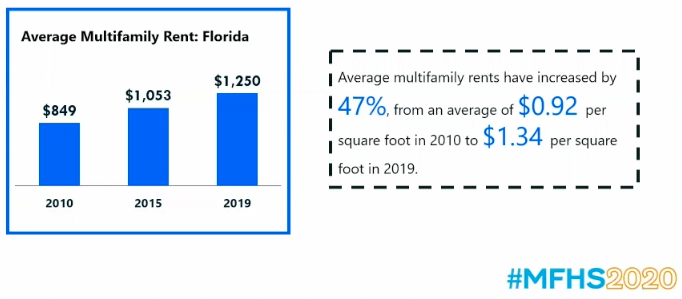 Housing affordability is

absolutely critical

to Florida's economic well-being and resiliency.
Municipalities across the state should consider the following recommendations as they work to cultivate working relationships with the development community to examine how local policy impacts housing affordability. This, in part, helps to ensure that the region, and at large, the state remains affordable for residents.

Understand and evaluate the cumulative impact of all municipal policies on rent.
Expand by-right zoning for apartments- especially in parts of the region that are experiencing the most growth.
Streamline and reform permitting processes to reduce delays.
Consider tax incentives to produce affordable units and increase overall supply.
Frame increasing housing opportunities as a step toward redressing communal inequities.

In addition to regulations, construction costs, and demands, a shift in renter income dynamics has also played a role in project pipeline response (the type and style of housing stock) across the four MSAs examined in the report.
FAQs
1. As an industry expert, what is one thing in the report that took you by surprise?
(A). Most surprising, was the data that showed an influx of high-income renters (earning more than $100,000 a year) moving to Florida. It seeks to confirm why, across the state, we see a lot of luxury products being built, and it is in part, because of the increase appetite for that product.
2. How can developers use the data in this report to work with policymakers?
(A). This data is an excellent opportunity to sit down with local policy makers and sift through some of the data in the report, together. There are a lot of misconceptions about the financial structure of deals, both affordable and market rate, as well as what goes in to the development process as a whole. This data serves to spark conversation and the report does a nice job of simplifying the cost factors that impact the costs of rents.'
3. What are some other things we, as an industry, can be doing to create avenues for the creation of affordable housing?
(A). The report touches on this a bit, but we strongly encourage local governments to create some sort of tax incentive for the creation and preservation of affordable housing. This can obviously take multiple forms, but for example, for every dollar of rent reduce, a dollar of property tax is reduced, almost like a rebate. Having a property tax incentive in place can help keep those affordable units, affordable.