Back to Sponsorships & Products
GKA Key Sponsorship
Event Sponsorship | Golden Key Awards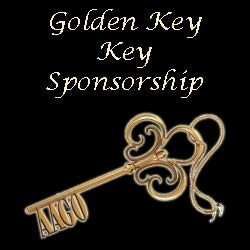 Get a 30 second commercial, to present an award of your choice, 20 tickets to the event, logo on the screen throughout the event, plus your company's logo on all event marketing materials as a benefit of a Key Sponsorship!
Sign up today as a Key Sponsor for the 2022 Golden Key Awards and receive the following benefits:
Company 30 Second commercial shown at the event
Company Logo on the screen throughout the awards ceremony
Present an award of your choosing
Recognition during the Awards Ceremony
20 Tickets to the Golden Key Awards
Company Logo on AAGO Event Webpage
Company Logo on event marketing materials
5 available - 3 have been sold
Get your Key Sponsorship now for the 13th Annual Golden Key Awards to be held December 4th, 2021!
Invoicing is a Member privilege. Non-Members will be required to pay upon purchase.
Sold Out