Back to Sponsorships & Products
Parade of Homes Entry
Advertising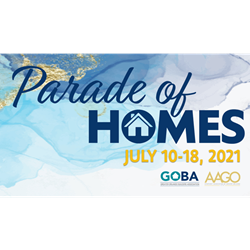 Enter your apartment community in the 2021 Parade of Homes!
All registered entries are included in a comprehensive and powerful marketing and advertising campaign that includes digital, print, and social media!
Click here to view marketing and branding details.
All registered entries include...
Inclusion in printed, full-color Parade of Homes GUIDEBOOK.
Expanded WEBSITE ENTRY: photos, descriptions, virtual tour links, social media handles, mapping locator.
Posting on Parade of Homes SOCIAL MEDIA channels:
Parade-branded signage with entry number, including directional
Limited quantity of Guidebooks (optional)
Judging of entries
---
ENTRY CATEGORIES and FEES
Note: Only apartment communities may be entered via the AAGO website. All other categories must register through GOBA directly.
$2,700: Apartment Community Entry (AAGO/GOBA Member)
EARLY BIRD DISCOUNTS
$400 off each entry until Thursday, Feb. 18 (Listed price reflects the early bird discount)
$200 off each entry until Thursday, Mar. 11
Full Price until Closing, Tuesday, Mar. 30

---
Registration Entries DO NOT include an advertisement in the Guidebook. If you would like to do an ADVERTISEMENT-ONLY buy in the Guidebook, without Parade sponsorship, contact cherry@greaterorlandoba.com for details. You must be a GOBA or AAGO member to participate.
---