Back to Sponsorships & Products
Half Page Ad - 4 Issues
Advertising | Key Magazine (Print)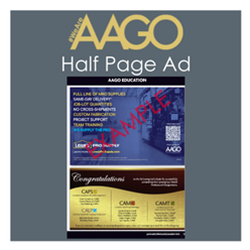 Purchase a half-page advertisement in four issues of the Key Magazine!
The Key Magazine provides both print and digital exposure to advertisers, as well as, the opportunity to...
Market directly to a niche, industry-specific audience,
Increase brand recognition and credibility,
Reach additional prospects and increase website/foot traffic, and
Measure and quantify the value proposition of your advertisement.
NEW - In an effort to offer additional exposure and potential foot traffic, we have made several enhancements to our digital magazine platform to give our advertisers the opportunity to include a URL link to a product, service, or website.
(PS - Don't have an advertising graphic or need to refresh your current one? Take advantage of one of your member benefits, our graphic design contracting services offer a quick and affordable way to get your graphics and go!)
Interested in advertising AND saving money? Our full-page, multi-issue advertisers save over $900 a year! In honor of the 50th Anniversary, AAGO is currently in the process of rolling out some new and exciting advertising opportunities, as well as, making a few notable revisions to the Key Magazine. Taking advantage of the unique opportunities this momentous milestone presents by advertising in the upcoming issue of the Key Magazine.
---