Pool & Outdoor Amenity Reopening Resources
Disclaimer- AAGO is not a regulatory authority or licensed to provide any legal advice or operational guidance. This resource is designed to provide tips, references, and information as members begin crafting their reopening policies. We urge and encourage you to consult with your legal counsel and corporate office(s) for official guidance.
---
QUICK LINKS
REOPENING RESOURCES | AMENITY REOPENING Meeting| FL EO PHASE 1 REOPENING
---
The Florida Apartment Association on What to Consider When Reopening your Amenities
FAA has created a resource page with additional references to assist members in developing amenity (indoor and outdoor) reopening procedures. You will find guidance, best practices, and additional background information from the CDC, the National Apartment Association, and various State Departments.
The CDC released "Considerations for Aquatic Venues" considerations include,
Promoting behaviors that prevent the spread of COVID-19,
Maintaining healthy environments

Cleaning and disinfection procedures,
Ventilation and water systems,
Modified layouts, physical barriers/guides, and
Communal spaces and shared objects

Maintaining Healthy Operations,
Preparing for when an individual gets sick.
The Florida Department of Health issued "Best Practices for Social Distancing at your Business" to ensure employees and patrons stay safe and healthy as the state continues its reopening process. We've included that infographic below.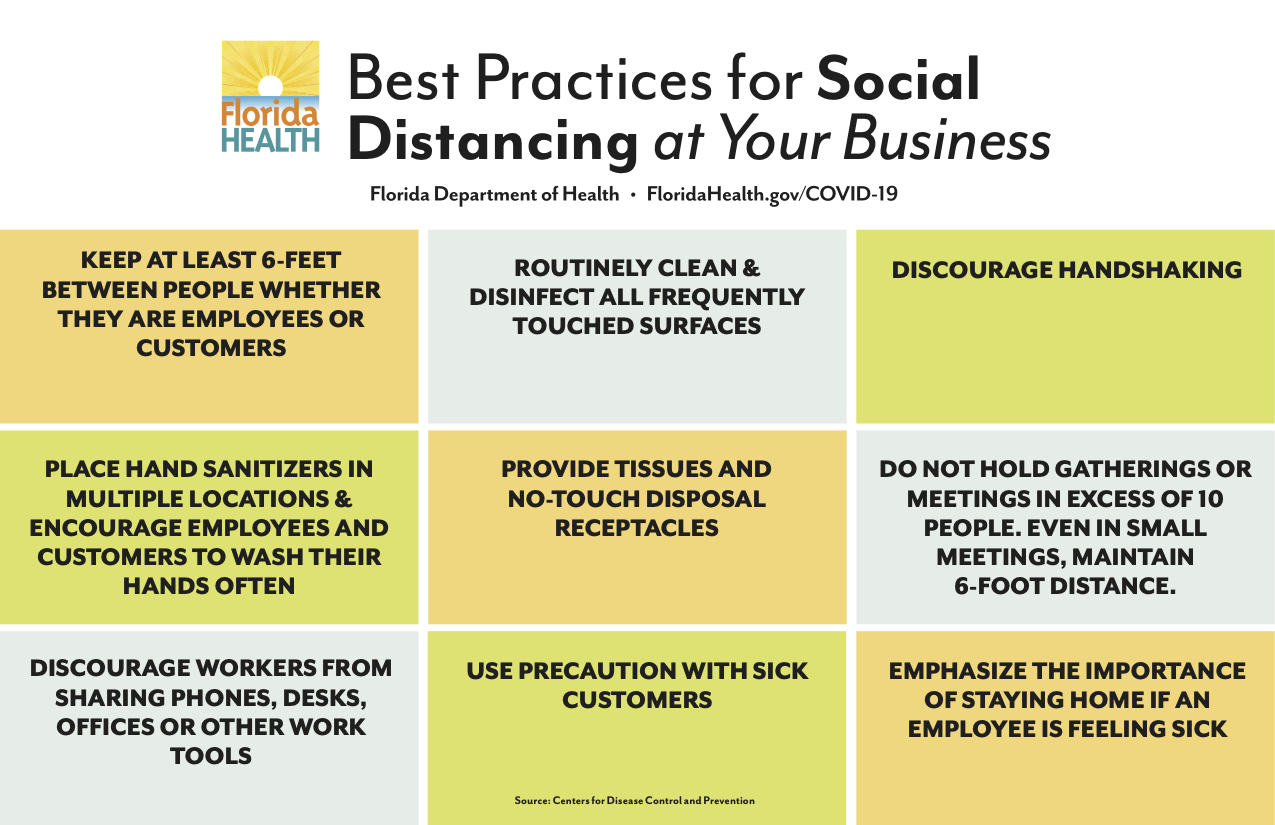 Many operators are considering the best timing and protocols for reopening common areas and amenities. One amenity in particular that has been the source of consternation for members has been how to best reopen pools. Below, we have compiled some links to additional resources and a few items to consider prior to reopening.
(Q)- Can we reopen our pool(s) now?

(A)- If you have appropriate measures in place to protect resident and employee health then in most counties, you should be able to do so. However, we encourage you to check with you County or City Health Department to ensure they are allowing this.
Please note, some counties have been more specific about what guidelines they are requiring for pool reopening, and others have been largely silent pointing instead to the Florida Department of Health and Centers for Disease Control guidance. If your community is located in a county without specific guidelines then it is up to your management to determine the appropriate timing, protocols, and amenity usage rules.
At a bare minimum, you should presume that strict social distancing guidelines are required for all amenities including pools. Most local governments will direct you to official sources such as the CDC and FDOH for current protocols. Additionally, even if technically not required it may be prudent to consider abiding capacity limitations imposed on public facilities and hospitality.
Factors to Consider Prior to Reopening:
How will you manage and monitor limited capacity requirements?

Currently, capacity should be limited to 25% of normal capacity. Some operators are scheduling usage per building or per apartment in time increments. Most have chosen to remove pool deck equivalent to capacity limitations and to mark off where furniture should be located on the pool deck.
Note: Remember that groups larger than 10 persons are in violation of CDC guidelines and some county executive orders.
Related: Read the recap of the May 5th "Office & Amenity Reopening" discussion. This article includes what other members are doing to ensure social distancing and plans for reopening.

How will you ensure "high touch" areas are regularly sterilized? (IE: Pool gates, furniture, railings, and washroom facilities)
How will you ensure compliance with county facemask requirements (Orange/Seminole) for residents and staff?

Note: This primarily applies to common areas, outdoor amenities, the pool deck, office, etc.

How will you communicate new guidelines and rules to residents and guests? (IE: Signage, notifications, waivers)
If you have multiple pools should you open each of them or would that pose too great a burden on staff?
Centers for Disease Control - Water & Pool Guidelines
Florida Department of Health - Pool Guidelines
FDOH: The COVID-19 virus is deactivated quickly using Florida rule-compliant chlorine or bromine concentrations in pools and spas, and there is no evidence it can be spread by treated water per the World Health Organization and the CDC.
As of May 20, 2020, the County has stated that they are taking no official position on whether or not pools can or cannot reopen. Contingent upon maintaining proper social distancing, the County has stated they will not take a position. The Orange County link contains a discussion of potential requirements for hotel and public pool reopening. We are actively seeking more official guidelines that are as of yet unavailable.
The operation or accessibility of a community pool is at the discretion of the pool's management. Seminole County's only order related to pools is with regard to outdoor assembly; groups of people greater than ten (10) persons are not permitted to congregate in any public space that does not readily allow for appropriate social distancing.
Osceola County's Executive Order that closed public pools expired last month and was not re-issued. The County has confirmed that in following CDC's guidelines, as well as any measures put in place by the Governor, public swimming pools may reopen.

Lake County Department of Health released a pool reopening letter that outlines pool operating guidelines. Most notable, the letter states for operators to have a "Pool Rules" sign clearly visible that includes the approved bathing load of the pool. Requiring that until further note, the pool capacity may not exceed 50% of the bathing load.
We do not currently have specific guidelines for Volusia County but are actively soliciting said information. It will be updated as it is made available!
---
Additional Resources