Golden Key Awards Spotlight: John Zapata, Service Technician of the Year
Date posted
October 1, 2018
In preparation for this year's Golden Key Awards we are reliving some of the excitement from last year's big event. For the next several weeks, we are going to highlight some of last year's Golden Key Nominees and share their stories with you.
This week, we sat down with Stacey Kleiber, a Community Manager for Greystar, to discuss why her company chose to nominate John Zapata for Service Technician of the Year in 2017.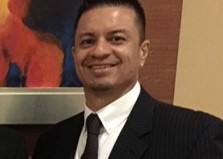 Amanda: Why do you believe it is an honor to be nominated for a Golden Key Award?
Stacey: Winning a Golden Key Award means recognition not just within one's company, but among members of AAGO and the vendors that help make our communities successful. Each of us puts 100% into the job that we do each day - taking care of our residents, teams and clients. Some days are more difficult than others but being recognized for a job well done helps keep us motivated and working toward success.
It's a great feeling to know someone you've worked with thought so highly of you and placed your name among the best in our industry. It truly is an honor to be nominated for, and to win, a Golden Award.
Amanda: Why did you choose to nominate John?
Stacey: The team here at Skyhouse is comprised of our two service technicians and a service supervisor. They have quite a task at hand to keep such a high end building pristine and in great working order for our residents. John has been a part of the Skyhouse team since the very beginning and has been an important part of keeping it looking new, even after five years. He has an unwavering positive attitude and a demeanor that makes residents feel at ease that their needs will always be a top priority.
Amanda: What qualities does John possess that make him stand out amongst his peers in the industry?
Stacey: John doesn't see his role at Skyhouse as just a job but rather a personal commitment to make not only his home but that of his neighbors the best it can be. Even when not working John makes note of areas within the building needing attention and truly cares about the presentation, cleanliness and quality of the community. He has great ideas for ways we can improve and his enthusiasm is contagious. He cares for his fellow team members and never hesitates to go the extra mile in making another person's day just a little easier.
Now that you know what it takes to be recognized during AAGO's Golden Key Awards, we hope you will join us as we prepare to celebrate our 2018 nominees. These professionals truly exemplify the best and brightest in the central Florida apartment industry.
Don't forget- the gala you don't want to miss will be held on December 1st from 5:30pm – 10:00pm at the Hilton Orlando. If you are interested in attending this year's Golden Key Awards, please click here or contact Cynthia@AAGO.org for more information.