COVID-19 Related Fraud Resources & Prevention
As complexities surrounding COVID-19 continue to develop, the U.S. Department of Justice (DOJ) is closely monitoring scams and fraud related to the Coronavirus.
The DOJ has reported several instances in which criminals have begun exploiting COVID-19 in situations similar/relating to the following:
Individuals and businesses selling fake cures for COVID-19 online, securing credit card information and other personal identification information. (United States v. John Doe a/k/a "coronavirusmedicalkit.com")
Imposter emails from entities posing as employees of the World Health Organization or the Centers dor Disease Control and Prevention.
Vicious websites and apps that offer to share virus-related information, in turn, gaining and locking access to your device until some sort of payment is received.
Donations sought for illegitimate or non-existent charitable organizations.
On a positive note, the Justice Department has issued statements relating to their first enforceable action against COVID-19-related fraud, as well as a joint statement with the Federal Trade Commission (FTC) announcing the expedition of antitrust procedure and guidance for Coronavirus public health efforts.
Enforceable Action: On Saturday, March 21, 2020, the DOJ issued a temporary restraining order against the operators of "coronavirusmedicalkit.com" who are known to have engaged in a wire fraud scheme. The website claimed to offer Coronavirus vaccine kits from the World Health Organization (WHO) for $4.95. The temporary restraining order requires the registrar of the website to immediately block public access to the website.
The DOJ and FTC have released recommendations of suggestive preventative measures that individuals can take to protect themselves against COVID-19 related scams.
How to Protect Yourself Against COVID-19 Related Fraud
Make sure the anti-malware/anti-virus software on your computer is up-to-date and operating correctly.
Independently verify the identity of any company, charity, organization or individual that contacts you about the Coronavirus.
Check the websites and email addresses offering information, products or services related to COVID-19. Many scams use email addresses or websites that have minor differences in comparison to those belonging to official entities. (I.E., cdc.com versus cdc.gov)
Hang up on robocalls
Ignore any online ads relating to virus vaccinations and home-testing kits. At this time there are NO FDA-authorized home test kits for COVID-19.
Do not click on links from sources you do not know. Often times, clicking these sources download viruses onto your computer or electronic device.
Factcheck your information. As a broader rule of thumb, you should always be looking for ways to verify any information given to you. This involves checking the credibility of where your information is coming from and searching for other sources that can verify the details.
For the exhaustive list of recommendations, we encourage you to visit either the DOJ (here) or FTC (here) website.
---
The Federal Trade Commission (FTC), released the infographic below giving consumers 5 tips on how to avoid Coronavirus scams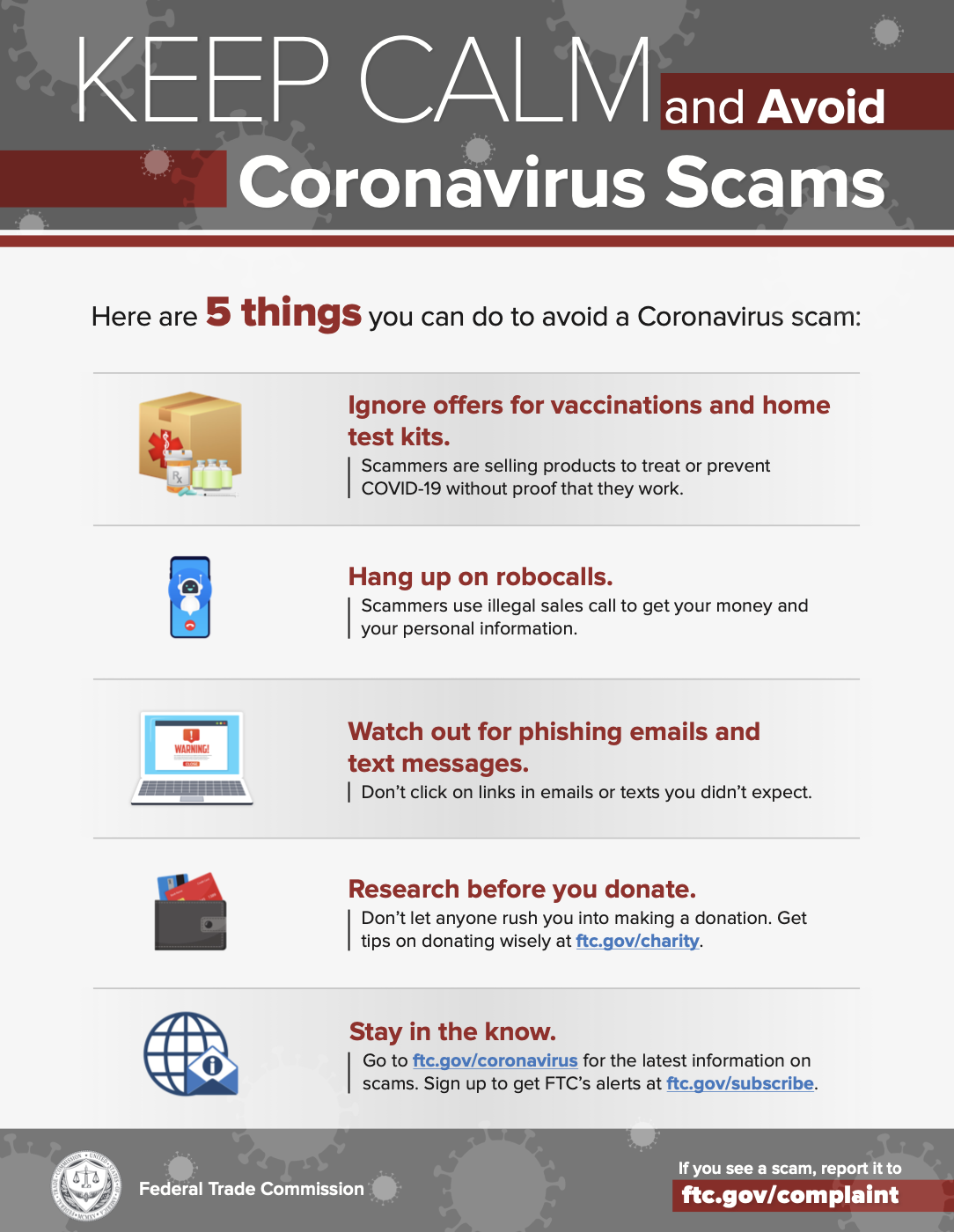 ---
How to Report Suspected Fraud
You can report any suspected COVID-19 related fraud to the National Center for Disaster Fraud (NCDF) via their hotline or email listed below.
Federal Bureau of Investigation- Internet Crime Complaint Center
The FBI has seen a rise in the number of fraudulent schemes relating to the Coronavirus and urges you to file an Internet complaint if you or someone you know has been subject to any COVID-19 fraud-related activity.
You can file a complaint, here.
Other COVID-19 Related Fraud News
State & Federal Law Enforcement Officials Act Quickly to Combat COVID-19-Related Fraud, Forbes
New Survey Finds 22% of Americans Have Been Targeted by Digital Fraud Related to COVID-19, Forbes
TransUnion Research Quantifies How Social Distancing is Changing Shopping Patterns, TransUnion
Coronavirus Phishing Emails: How to Protect Against COVID-19 Scams, Norton
COVID-19 Scams Are Everywhere Right Now. Here's How to Protect Yourself, Time