Starring

Kate Good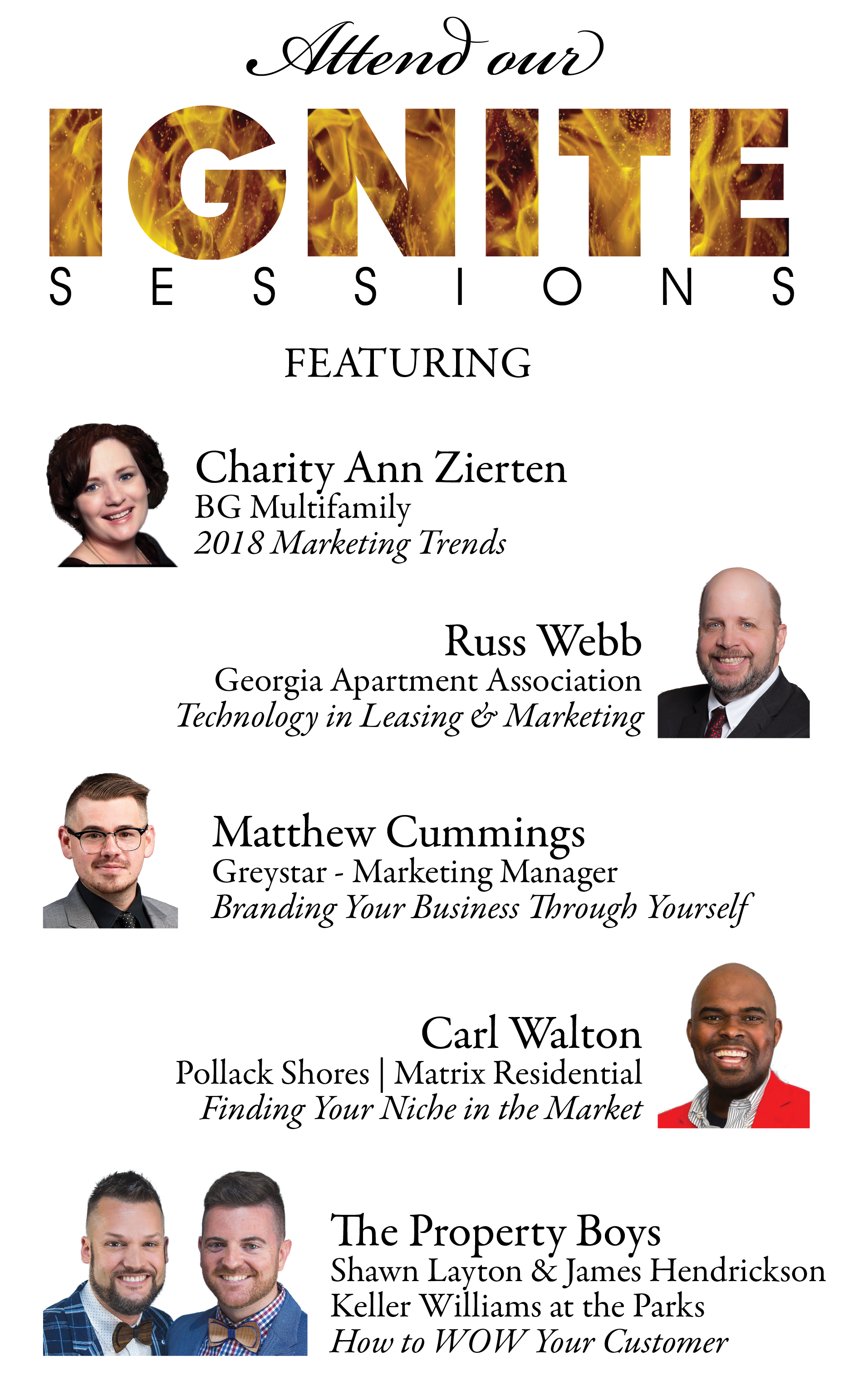 Presenting Sponsors


Apartment List
Parking Sponsors:
Snack Sponsor:

Event Sponsors:
Photo Booth Sponsor:
For Parking information click here
---
Attendees say this fun, educational event significantly improves their professional leasing skills. We looked at some of the top take-away's from last year's event:
Online marketing ideas were great!
Appreciated learning about new tools/apps for business
The importance of story telling
The importance of listening to the prospects
Making more memorable moments at our communities with our residents! Use to promote your property.
Reminder to figure out what your property's nitch really is and use it, share it, promote it!
80% of sales are made on the 5th to 12th contact.
Instagram and facebook live tour of a model or our community idea!
How to have a prospect remember you!
Searching other ways to connect with others by creating an experience.
Loved learning how to adjust tone based on generation.
Storytelling with your prospect
The technology sessions with the different websites was interesting and cool to learn about
Great new ideas.
"My favorite part of Lease-A-Palooza is the amazing speakers and being able to dress up" Tim Endicott
"I Love the networking opportunity. Getting motivated again just in time to push us threw the "slow" season & jump right into the "Fast" season. Being able to pick other industry professionals brain is motivation enough to go." Jolene Sopalski
"I attend because it motivates me tolearn from the top minds in our industry. Exciting new ideas to bring back and apply to our properties." Jamie Clary Cruz
"Lease-A-Palooza gives my team the opportunity to network and experience first hand what is going on in our industry. And by dressing in character just allows those creative ideas to flow." Monica Montalvo
"I am looking forward to speaking this year! This event is one of the best to learn the latest trends and techniques for leasing and marketing. It is a fun way to network, share and learn from your peers." Maria Filippone
"A reason to go to LeaseAPalooza besides having so much fun is, to learn new & fun ways to improve your community and yourself." Jaclyn Walter
"The event speakers were great this year. I was able to stay engaged through the day. Loved it!" Heather Powell
"Lease-A-Palooza is my favorite event! I learn something new every year. Can't wait for the next one!" Cornelius Hobbs
"This is an event than everyone in central Florida should attend, no matter what." Russ Webb
"I am definitely taking some things back with me." Josh Kruntz
2018 Lease-A-Palooza Sponsorship Opportunities