March Member Benefit Highlight: AAGO Community
Date posted
March 12, 2021
Making the Most of your AAGO Membership
---
We want to be sure you are making the most of your AAGO membership! In an effort to do so, throughout this year, the AAGO team will be highlighting a few of the exclusive benefits that come along with being an AAGO member. From new member directory functionality and features to dedicated discussion platforms, AAGO members have a variety of benefits at their disposal and we want to help ensure all of our members are taking advantage of them.
This month's benefit highlight is the AAGO Community.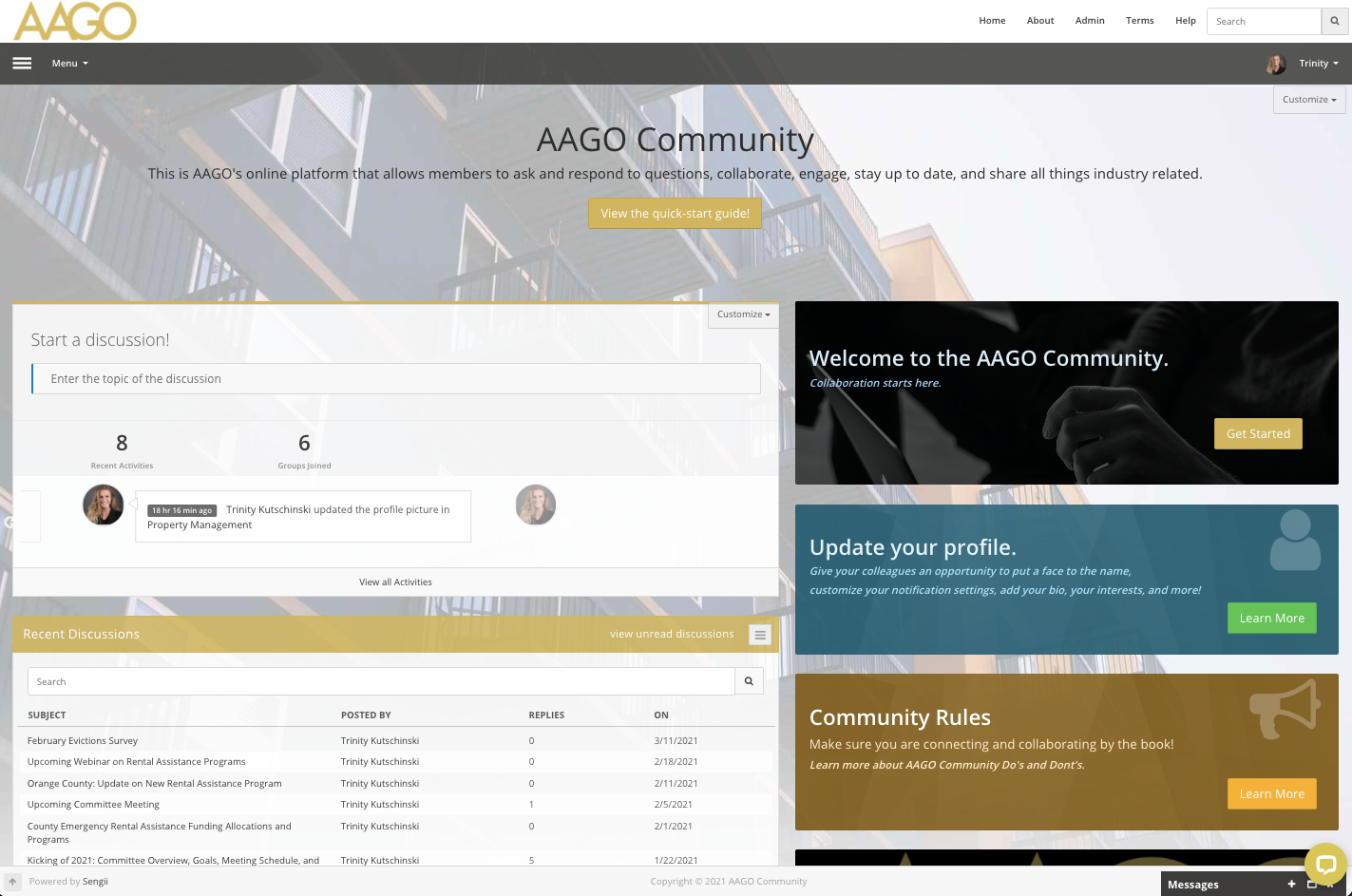 What is AAGO Community? The AAGO Community is an exclusive, members-only online discussion platform that allows you to engage with fellow members, ask questions, share news, and stay up to date on the industry's latest and greatest. The Community features a number of discussion groups, some open and accessible to all members, and others more niche and segmented based on member type, committee participation, indicated interests, and more.
How do I access AAGO Community? The AAGO Community is accessible via the website homepage, your member profile, and now, this feature article. The Community is connected to your AAGO member profile, so to log in to the Community, you will use your same member login credentials you do for the AAGO website.
What are some of the discussion groups on the AAGO Community?
The Community features a handful of discussion groups, some open to all members and others based on your membership type, job title, committee participation, and interests as indicated via your AAGO member profile. A few of our most notable discussion groups on the Community have been highlighted and linked below.
Our Member Forum includes and is open to all AAGO members (who have a member profile that includes an email) if you are looking to simply share broad, industry-related news, ask a question pertaining to a variety of industry segments, or simply say hi to all of your fellow members, we would encourage you to post those things on our open forum.
If you are a property manager, we have a discussion forum specifically for you! If you have an operation-related question, meme, news, or simply want to chat with members in similar roles, we encourage you to use this group.
If you are a supplier partner, we have a discussion forum specifically for you too! If you have supplier-related questions, even if they are specific to a certain type of supplier, you can use this discussion to ask them. You can use this forum to share news, check in with fellow colleagues, and more.
---
Note- If there is a member-specific group you are not a part of and think you should be (based on job title, interest, etc.), please check your member profile to ensure you have included your company role and selected your desired interests. In doing so, you should automatically be rolled into the group.
---
FAQ- What is an interest and how do I check to see if I have indicated any on my member profile?
(A)- You can view your indicated interests via your member profile. Simply visit your member compass and on the left-hand side, click profile. Once here, scroll down to 'About Me- Roles and Interests' and select all of those that apply. These interests give the AAGO team a better idea of what sorts of association programming, news, etc., grab your attention. By indicating your interests, we can better tailor our communication efforts to your preferences. In addition to interests, you will see a variety of other information you can include on your member profile (dietary restrictions, what, if any, volunteer opportunities you would like to learn more about, your job title, headshot, social media handles, and more.)
---
For additional information about the AAGO Community, terms and conditions, or how to use it, please contact Trinity Kutschinski, Public Affairs Director.