County Emergency and Reopenings Orders
Important Notes
Monday, June 1, 2020

- Governor DeSantis issued Executive Order 20-137 which extends the temporary suspension of foreclosure or eviction on the basis of nonpayment until July 1, 2020.

Friday, May 8, 2020

- Governor DeSantis issued Executive Order 20-114 that extends Executive Order 20-52, which declares the State of Emergency. Executive Order 20-114 extends the declaration for an additional

60 days

. So, expiration is set for July 4, 2020.

Per Florida State Statute (sec. 501.160), a rent increase that represents a "gross disparity" during a declared State of Emergency is unlawful/prohibited. It is important to note that the

definition of gross disparity is up to interpretation.

Florida Statute states that, if there is a gross disparity between what the price (rent) was 30 days prior to the emergency declaration and the proposed change, this is considered price gouging.
Effective May 18, 2020, the State entered Full Phase 1 Recovery, see Executive Order 20-123, or, AAGO Resource- Phase 1 Reopening for additional information.
---
Governor DeSantis issued Executive Order 20-91 which placed Florida under a statewide Safer-at-Home Order. 20-91 went into effect on April 3, 2020, and unless he chooses to extend this Order, it is set to expire on April 30, 2020. The Governor's office released an FAQ Fact Sheet that outlines and clarifies essential services and activities under Executive Order 20-91.
---
Applicable Cross-County
Lynx- Starting May 11, 2020, Lynx will resume its normal operating schedule.
SunRail- SunRail is operating on a modified schedule until further notice. They have outlined their reduced schedule on their website which is accessible above.
---
On May 31, 2020, Orange County issued Emergency Executive Order 2020-19, placing the County back under a 10:00 PM- 5:00 AM curfew which will remain in effect until further notice.
Following the issuance of 20-91, the County chose to align their Stay-at-Home Order with the Governor's directive. Following the issuance of Executive Order 20-112, Orange County Mayor Jerry Demings issued EO 20-12 which outlines the minimum requirements for businesses and places of assembly to reopen.
Most notably, EO 20-12 requires customers obtaining service at a business where employees/individuals come within six feet's distance of one another must both be wearing facial coverings.

Unless a customer's wearing of a facial covering would impede the service being obtained.
The U.S. Surgeon General released a video explaining how to make a homemade cloth mask.
Public Facilities

- All youth, adult, and senior programs and gatherings have been suspended. This includes the closure of fitness centers, gyms, game rooms, tennis centers, playgrounds, basketball courts, volleyball courts, boat ramps, canoe/kayak launches, as well as all Orange County Parks and Recreation Campgrounds.

Development Services

- As of March 27, 2020, many County facilities closed to the public, this includes the Orange County Administration Building. All permitting may be submitted online through the County's Fast Track Online Services portal.
---
In addition to following 20-91, Osceola County's Executive Policy Group enacted an emergency order requiring all people working, living, visiting or doing business in Osceola County to wear a facial covering while in public places. This order went into place on Monday, April 13th, and will remain in effect until further notice.
The County released the graphic below to clarify the exemptions included in the order.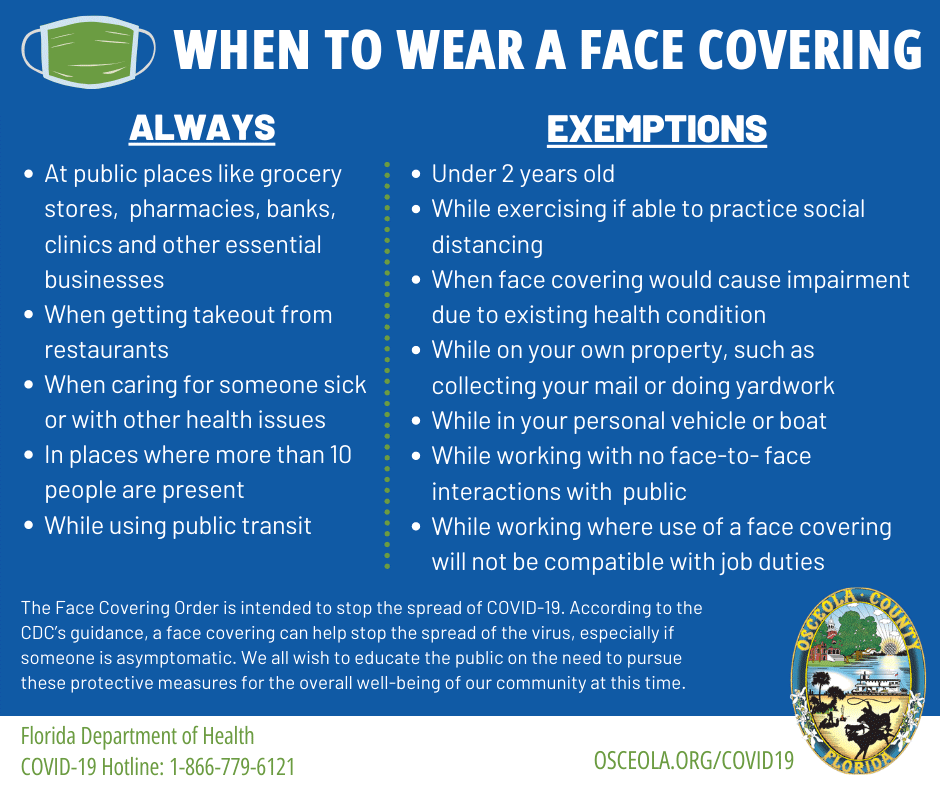 Click on the graphic to access additional information about the order.
Facial Covering- FAQs
(Q) If I'm not to go and buy a face mask, how can I make one at home?

(A) The U.S. Surgeon General released a video that walks you through how to make your own facial covering. You can watch this video below.
(Q) What can you use to make a homemade facial covering?

(A) Examples include bandanas, t-shirts, scarves, any type of cloth that fits securely over the nose and mouth.
Development Services

- The Osceola County Building Office is closed to the public but permitting can be done online.
---
In addition to EO 20-91, Seminole County put a Social Distancing Order in place that is now applicable only to businesses deemed essential.
The Order states the following-
All employees and patrons must practice social distancing by maintaining at least, a six (6)-foot distance from one another,
Group meeting sizes must be limited to ten (10) people or less,
Limit occupancy to 30% of the maximum allowable capacity under the fire code, for non-residential, non-medical and non-lodging uses, and
Checkout points and staging areas, including storefronts, must be monitored for social distancing requirements by means of marking floors or similar actions, to ensure customers maintain six (6) feet distance.
Public Facilities- Effective Thursday, April 16th, all County boat ramps will re-open for public use.
All County playgrounds and basketball courts are temporarily closed, and
All County parks will open and close consistent with each facility's published hours of operation.
---
Lake County issued two emergency orders prior to the Governor's Safer-at-Home Order, urging persons 65 and older, as well as, those with underlying health conditions to stay home to limit their exposure to COVID-19. Additionally, similar to Seminole County, they issued social distancing guidelines for businesses.
Public Facilities

- All Lake County Government buildings are closed to the public. The County's parks and trails remain open.

Development Services

- Permitting applications can be completed online.
---
Beaches-

Following the Governor's Executive Order outlining Phase 1 of re-opening Florida, Volusia County announced that

effective Saturday, May 2, 2020

, County beaches will be open for public access, allowing activities other than exercising (i.e., sitting, sunbathing, etc.)

In addition to the statewide Safer-at-Home Order, Volusia County issued an emergency order declaring all beaches closed. The order went into effect on April 3 and will remain in effect until further notice.

All vehicular and pedestrian beach approaches, beachside parks, and county-owners off-beach parking/walkovers will be closed.
If you would like to access City-specific information, you can click here.
---
With Florida's Phase 1 reopening underway, are you considering reopening outdoor or indoor amenities? If so, we have created a helpful resource document accessible below.