Call to Action: Helping Renters and Property Owners Recover from COVID-19
Date posted
March 20, 2020
As we all continue to monitor the situation surrounding COVID-19, we continue to receive new information and recommendations surfacing at each level of government. In light of this, it is paramount that we continue to advocate for the developing needs of our industry. In conjunction with NAA, we are asking each of you to call on your members of Congress to provide direct assistance to renters and support property owners and operators who continue to feel the impacts of the Coronavirus.
---
At this time, we are asking that you take the time to participate in this call to action by sending the information outlined below to your members of Congress.
You can Participate by clicking, here!
---
Please note, as you are redirected to NAA's website, you may notice a maximum word limit associated with your message to Congress (highlighted by the image on the left). The auto-generated message provided by NAA may exceed this word limit.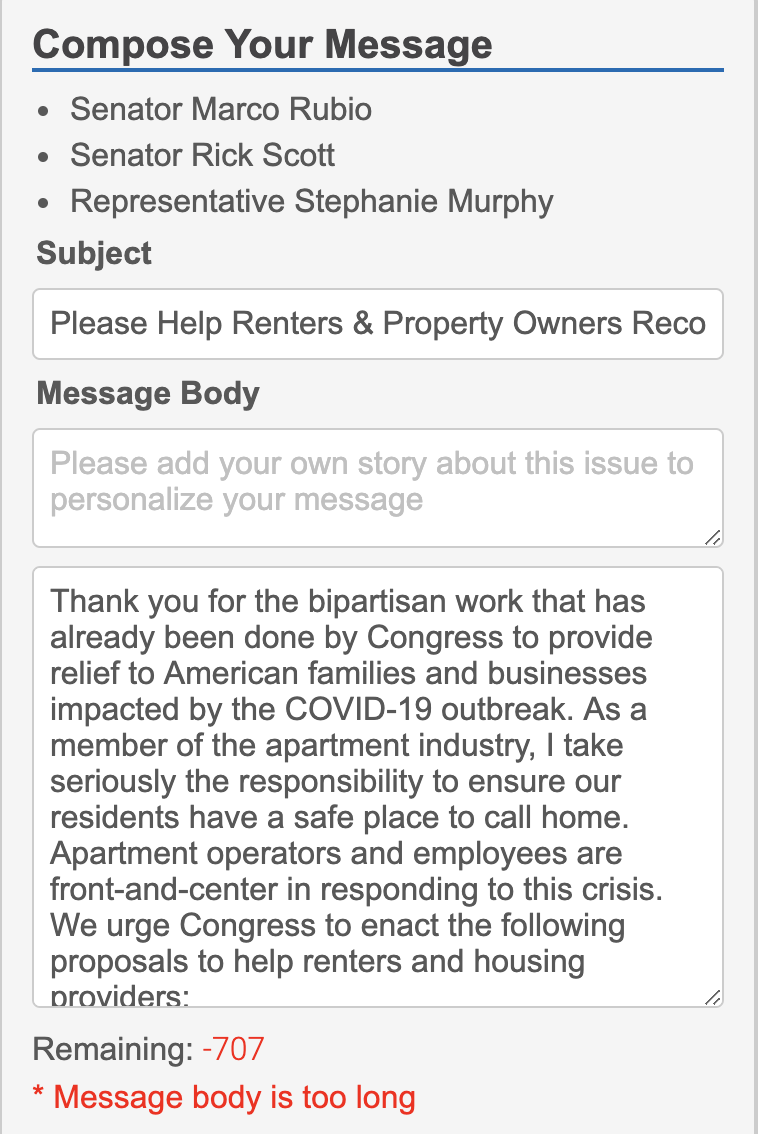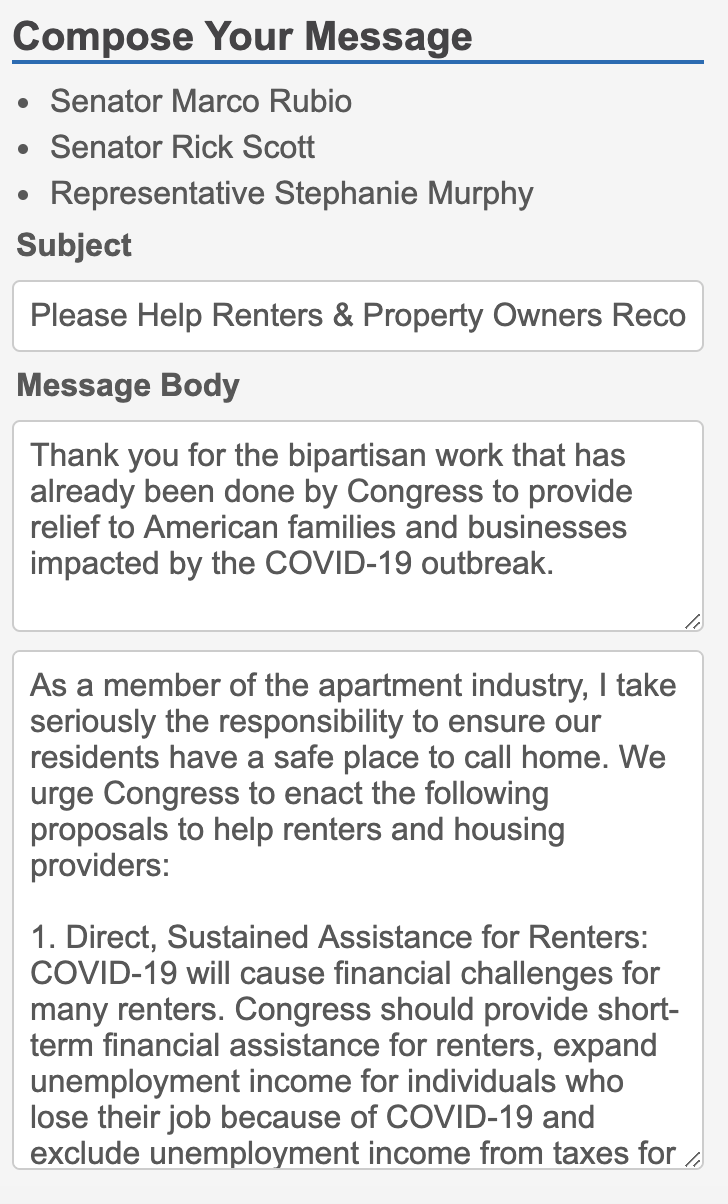 In the event you run into this issue, you may elect to copy and paste the truncated message below (highlighted in the image on the right).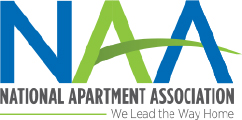 ---
Message to Members of Congress- Maximum Word Limit Accepted
Thank you for the bipartisan work that has already been done by Congress to provide relief to American families and businesses impacted by the COVID-19 outbreak.
As a member of the apartment industry, I take seriously the responsibility to ensure our residents have a safe place to call home. We urge Congress to enact the following proposals to help renters and housing providers:
Direct, Sustained Assistance for Renters: COVID-19 will cause financial challenges for many renters. Congress should provide short-term financial assistance for renters, expand unemployment income for individuals who lose their job because of COVID-19 and exclude unemployment income from taxes for 2020.
Forbearance on Multifamily Mortgages and other Financial Obligations: Most rental properties are owned by individuals and small businesses that must pay mortgages, utilities, payroll, insurance, and taxes. If residents cannot pay their rent because of COVID-19, then owners are at risk of not meeting their obligations.
Guardrails for Eviction Moratoria:

A maximum 45-day time frame with a possible 45-day extension should the situation warrant it.
No application to proceedings filed prior to or not a material result of COVID-19.
Preserve the right of housing operators to evict other lease violations such as property damage, criminal activity or endangering other community residents.
Require residents to officially notify the property owner of temporary financial hardship as a result of COVID-19; request temporary assistance/relief, and acknowledge that contractual terms of the lease remain in effect.

Critical Tax Relief for Individuals and Affected Industries:

Payroll Tax Cut
Unemployment Compensation Exclusion
Net Operating Loss Carryback
We urge and encourage you to share this with members of your team!