Make Ready Training
Learn necessary skills as a detail technician/porter for make readys!
---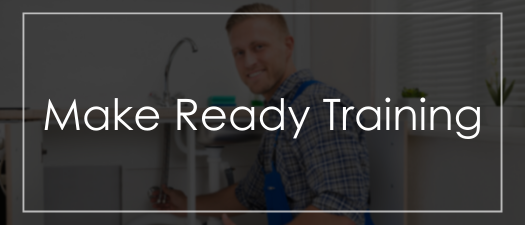 Make Ready Training!
---
9:00 AM - 5:00 PM
Instructor: Mark Friese, The Phoenix Staffing
Continuing Education Credit: 3.00
Students will learn foundational concepts to become a detail technician/porter with extra skills to help get you going in this awesome career! There are opportunities for advancement to Make Ready Technician, Maintenance Technician and Maintenance Supervisor very quickly.
Hands-on Training includes:
OSHA Safety Requirements
Faucet repairs & replacement
Garbage disposals
Wall hole patch, prep, texture and paint
Bathroom prep caulking toilets, tubs and electrical
Small appliance, troubleshooting, and repair
Troubleshoot A/C and furnace thermostats | Electrical plates and switches
Ceiling fan repairs & replacement
This training is hands-on; dress in work attire; polo shirt, clean pants, boots, or sneakers, you may get dirty. A training manual and tools will be supplied.
Pricing
APASS: Free
Members: $79
Non-Members: $299

Meet Your Instructor
Instructor Mark Friese began his career at The Bridgewater Apartments as a Porter/Make Ready Technician. No experience at all and as most of us – learned on the job. Always wanting to better himself he decided to receive his EPA on January 26th, 1994, and shortly thereafter was asked to become the Maintenance Assistant at The Bridgewater Apartments. Mark moved up quickly to Maintenance Supervisor and never stopped learning, earning credentials that every Maintenance person needs. Mark has his CPO Certification and CAMT Certification. Marks passion is training because he has learned by getting certifications, being thrown into the fire we call Property Management and knowing the next group that enter this industry need leaders and training to be successful.
For More Information: