Commissioner Moore Luncheon
---
Wednesday, June 15, 2022
12:00 PM - 12:45 PM (EDT)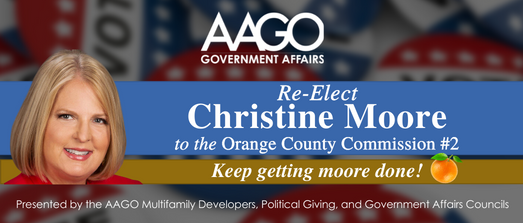 Lunch with Orange County Commissioner Christine Moore
---
Join the Multifamily Developers, Political Giving, and Government Affairs Councils for a luncheon in support of Orange County Commission Christine Moore's re-election campaign.
The goal of our candidate luncheons is to demonstrate that we (the industry) support candidates who support us. Commissioner Moore has and continues to demonstrate her willingness to engage the industry when issues come to fruition. Most recently, she voiced strong opposition to the rent stabilization proposal being considered by the commission.
As a strong supporter of the industry, this luncheon is in support of her re-election campaign. Contributions are strongly encouraged and can be presented to the commissioner during the event, OR, made online.
For additional information about Commissioner Moore's re-election campaign, click here.
---
Thanks to our Luncheon Sponsors
Please note, you must be logged into your member profile to register.