Pre-Legislative Conference Briefing
---
Friday, January 28, 2022
11:30 AM - 12:30 PM (EST)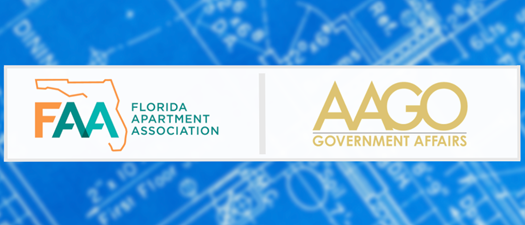 Join the AAGO Government Affairs Team and Government Affairs Council Chair, Meredith Torres, for our Pre-Legislative Conference Issues Briefing!
Every year, members from across the state travel up to Tallahassee for the Florida Apartment Association's annual Legislative Conference to advocate on behalf of the apartment industry. The Conference is an exciting opportunity for you to be able to give our industry a voice AND make it heard in Tallahassee.
If you are a 2022 Legislative Conference Attendee, we strongly encourage you to attend the briefing as it will provide you with additional information and resources to prepare for our meetings with legislators.
During the briefing, you will have the opportunity to listen, learn, and ask questions about:
What to Expect When in Tallahassee
How to Navigate the Capitol
Overview of the Florida Legislature
2022 Legislative Priorities and How to Talk About Them
Legislative Conference Attendees Only - Team and Meeting Assignments
Whether you are a Legislative Conference Attendee or simply a Legislative Learner, you are welcome to attend the briefing.
Click the 'Register Now' button above and select the ticket type that describers your attendance (Legislative Conference Attendee or Member Ticket)