ICYMI: Everything you need to know about the City of Orlando's Recycling Ordinance
The City of Orlando's Multifamily Recycling Ordinance
Phase III
Ordinance Compliance Deadline (75-250 units)- April 1, 2021.
Although several months away, many multifamily communities will soon be subject to compliance with Phase 3 of the City's mandatory recycling program. The City strongly encourages housing providers to prepare for compliance by proactively planning and preparing for the implementation of a recycling program.
To help housing providers prepare, the City's Solid Waste Department will be hosting several info workshops in the coming months in an effort to assist property owners and managers:
Understand the ordinance and Phase 3 compliance thereof,
Provide preparatory help in crafting a recycling program that fits the needs of the apartment community, and
Provide assistance in filling out verification documentation.
You can register for one of the City's upcoming workshops, here.
Phase II
Ordinance Compliance Deadline (250 units or more)- April 1, 2020.
Many residential communities subject to the Phase 2 deadline of the City of Orlando's mandatory recycling ordinance have yet to begin/submit the recycling verification process. It is important to note, the deadline for Phase 2
(Phase 2 includes multifamily communities with 250 units or more)
compliance was
April 1, 2020

.
If your community was subject to the Phase 2 deadline and you have yet to-
1.)
Submit a recycling verification form
or
2.) Request a free recycling consultation.
The City strongly urges and encourages communities to do one or the other as soon as possible in order to ensure compliance. Verification submission information can be accessed at the button below.
---
Additionally, if you have any questions about compliance, verification, or submission, please contact the City's multifamily representative, Evan Novell.
---
More about the City of Orlando's Recycling Ordinance
Last year, the City of Orlando moved forward with its long-standing vision of implementing a commercial and multi-family recycling program. Officials from the City of Orlando say that waste produced by commercial and multifamily buildings amounts to more than double that produced by residential homes. Additionally, the City of Orlando claims that the ordinance will reduce waste hauling costs for owners, circulating the flyer below in an effort to highlight its cost-saving benefits.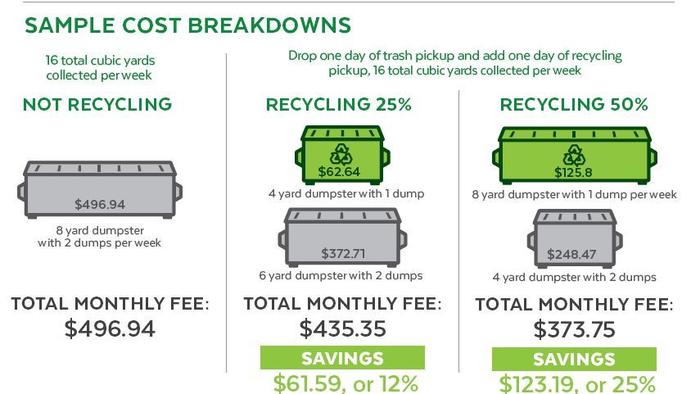 For multifamily communities, implementation of the plan will be broken down by phases based on the size of the community, with the first retroactive compliance deadlines set for April 1, 2020.
AAGO worked closely with the City of Orlando throughout the ordinance drafting process to ensure the language met the City's sustainability needs while remaining as industry-friendly as possible.
---
The ordinance requires commercial and multifamily properties to provide recycling opportunities to their occupants/residents. Spanning over single-family, duplex, triplex, and multi-family residential premises. As it pertains to multi-family, all residences with four or more dwelling units are subject to comply with the recycling ordinance. Property owners must provide or arrange for the addition of one or more collection containers on their premises.
What is my compliance deadline?
| | | |
| --- | --- | --- |
| Effective date | Property Size (by unit) | Type of Property |
| October 1, 2019 | New development/substantial renovations | New development |
| April 1, 2020 | 250 units or more | 200,000 sq. ft. or less |
| April 1, 2021 | 75-249 units | 100,000-199,999 sq. ft. |
| April 1, 2023 | All other properties | All other properties |
Okay, I know my compliance deadline. What's next?
You can visit the City of Orlando's website to check whether or not your property is within city limits. If your property must comply, regardless of property size, the City urges you to complete and submit a recycling verification form as soon as possible.
Note: You can work with any of the approved recycling companies operating in Orange County. We encourage you to check with your contract garbage company to see if they offer a recycling program. If you need a list of licensed, authorized recyclers, contact Orange County's Solid Waste Hotline at (407) 836-6601.
Is there anything I need to keep a record of?
All properties will be required to maintain records for a period of five (5) years, demonstrating compliance with program requirements. Upon request, copies of these records shall be provided to the City for inspection. Records must be given to the City within thirty (30) days of them being requested.
Where should I place my contains?
For larger communities with onsite dumpsters, roll-offs, or compactors we recommend consulting with the City's Solid Waste Division on the best options for adding recycling containers.
---
For more information please email Trinity Kutschinski, AAGO Public Affairs Director.