CAM - Certified Apartment Manager
Set yourself apart from the crowd as a nationally recognized CAM designate!
---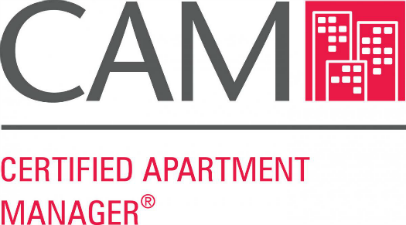 2022 CAM
---
Module I of our spring offering of CAM starts Friday, March 11, 2022
The Certified Apartment Manager (CAM) is a vital link between the resident and the community owners and investors. Earning your CAM credential gives you the knowledge to increase your community's net operating income. Whether you're new to apartment management or a long-time property manager, you'll enhance your skills, knowledge, and ability to effectively manage an apartment community and achieve its owners' investment goals.
Earning your CAM credential allows you to demonstrate your skills, knowledge, and ability to manage an apartment community and achieve owners' investment goals.
You'll learn about:
Occupancy rates
Comprehensive marketing plans
Sales team management and product readiness
Equitable treatment of current and potential residents
Resident retention and the maintenance of a positive company image
Consistent and ongoing resident communication
Positive resident service and issue resolution
Enforcement of company policy in compliance with laws and regulations
Property inspections
Preventive maintenance programs
Service request process
Apartment turnover process
Contractors and vendors
Recruitment, hiring, orientation, and training of high-caliber employees
Systematic employee evaluation
Employment regulations and record-keeping
Analysis of the property's financial operations with corrective actions for underperformance
Monitoring of property performance to achieve the owner's investment goals
Accounting principles and practices
Maximizing net operating income
Reporting property performance honestly and accurately
---
Interested in sponsoring one of these classes? Select "Register Now" for sponsorship opportunities.
Thank you to our sponsors!
Pricing
Members: $975
APASS Exclusive: $875
Non-Members: $1,449
Spring Program Schedule *Dates are subject to change*
March 11 - Industry Essentials and Financials
March 24 - Property Maintenance
April 7 - Human Resources
April 21 - Marketing
May 12 - Risk Management and Legal

May 25 - Resident Experience & Review
CAM Program Requirements: CAM candidates must complete the following requirements to obtain the CAM designation-
A minimum of 12 months of onsite property management experience,
Have successfully completed CAM coursework, and
Meet all examination requirements within 12 months of declaring candidacy for CAM
---
Are you ready to take your CAM? Use the CAM readiness, self-assessment tool below.
For More Information: