2023 Associates' Breakfast Q3: DEI in the Workplace
Third Quarter
---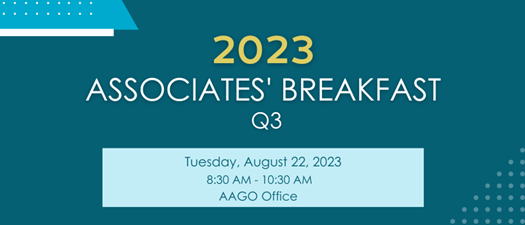 This breakfast series is hosted for our supplier partners to have an open discussion with management company panelists to learn tips and tricks of doing business and specific processes of their management company.
This quarter will we be discussing the importance of DEI in the workplace. DEI, which stands for Diversity, Equity, and Inclusion, is crucial in creating a positive and productive work environment. It promotes respect, fairness, and equal opportunities for all employees, regardless of their backgrounds or identities. By embracing DEI, companies can benefit from the unique perspectives and skills that a diverse workforce can bring, while also fostering a culture of belonging and mutual understanding.
At each breakfast, we have our moderator, Associates' Vice President, Justin Frost, and guest speakers. Join us for our Associates Breakfast series, offered once a quarter!
See additional dates on the AAGO calendar.

---

For More Information: