Executive Update 2019
Your dues investments continue to pay dividends.
Quick Links
Workforce DevelopmentLocal AdvocacyState AdvocacyEngagement Opportunities
---
Workforce Development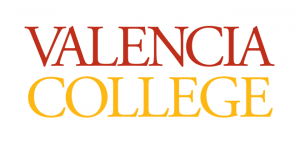 AAGO offers one of the most robust apartment association education schedules in the country including national designations (CAM®, CAPS®, CAMT®), certifications (EPA®, CPO®, etc.), landlord/tenant law, fair housing, marketing, and so much more. The association and many of you are also proud to partner with Valencia College to support the Residential Property Management AS Degree and the Apartment Maintenance Technician certificate. This partnership is producing critically needed talent for the apartment industry. In an effort to increase the talent pipeline the AAGO Foundation will make a major scholarship announcement at the Thanks for Giving Luncheon on November 15th!
Fun fact: AAGO members and staff serve on the Valencia RPM Advisory Board, Valencia Foundation, and support curriculum development for NAAEI programs!
---
Local Advocacy
The apartment market in central Florida is booming and poised for future success, but powerful interest groups are attempting to disrupt this growth. AAGO has invested significant resources, financial and otherwise, in promoting and defending the apartment industry at the local level. The measure of success is as much in bad housing policies that do not come to fruition as it is establishing the association as the apartment industry expert and resource in central Florida. Association staff and leaders have held in numerous high-level meetings with local elected officials and county/municipal staff to better educate them on the perils of bad housing policies such as landlord registration, inclusionary zoning, escalation in fees for new development, and the important role apartments play in a growing market. These meetings produce results.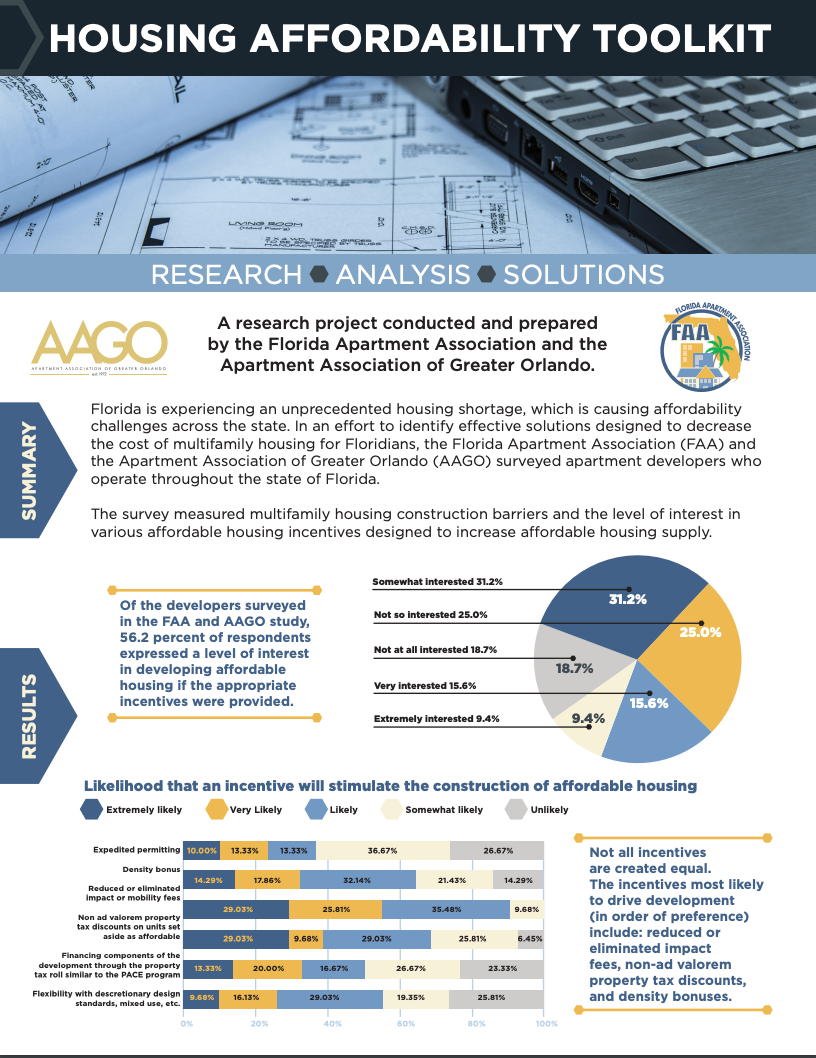 Media - In 2019 AAGO had the opportunity to serve as a resource to local media (WESH, WFTV, Channel 13, WMFE, Growth Spotter, and Orlando Sentinel) in an effort to provide a voice for the industry that fairly represented the market, challenges, and our efforts to address housing affordability. As an example, AAGO CEO, Chip Tatum, was featured as a member of Orange County Mayor Deming's "Housing for All Task Force" in WESH News Affordable Housing Chronicle. Click here to watch the episode (AAGO is about 4 minutes in).
Collaboration - In 2019 AAGO and FAA co-authored the "Housing Affordability Toolkit" for local governments to review when crafting housing policy!
Current & Emerging Issues
(We provide brief descriptions for many of these, but can provide more detail if you need it.)
Housing Affordability - As the population continues to balloon in central Florida, and housing inventory tightens, housing affordability will remain in an issue that is top of mind for local lawmakers.
Sustainability - The City of Orlando and other local entities are highly motivated to respond to climate change at the local level due to a perceived lack of effort at the state/national level. This has led to energy benchmarking ordinances like Orlando's BEWES for multifamily and commercial buildings, and soon to be introduced ordinances addressing new developments.
Transportation

Lawmakers contend that transportation costs for low-income workers is part of the significant cost-burdened bared by these households.

Additionally, the association has been involved in discussions about how to pay for transportation infrastructure and transit-oriented development.

Rights of Nature - Ordinances pertaining to whether or not a group has the ability to sue on behalf of a natural body (i.e. river or lake) for violations of said body's rights irrespective of whether or not there is another harmed party.
Landlord Registration - These ordinances have been popping up around the state. They attempt to place regulations on short-term rentals (i.e., Airbnbs). Each proposed ordinance has thrown in some local flare, some mandating a landlord having to register with the county prior to renting out the property, requiring the landlord to maintain a current list of residents, etc.
Impact Fees - Left up to local government jurisdiction, these one-time fees are tacted on to all new residential and commercial development, used to offset and support the "impacts" imposed on the infrastructure by, said, new development (i.e., schools, parks & rec, police, fire). With some of the highest impact fees in the state charged by municipalities in the greater Orlando area, these fees place a significant cost burden on developers.
"Ban the Box" Legislation - These ordinances seek to remove the question and checkbox on employment, housing, public benefits, insurance, loans, and other services that ask,
"Have you ever been convicted of a felony?" or "Have you ever been convicted by a court?" These policies have the potential of creating harmful situations for our industry as a whole.
Source of Income - Mandating SOI protections prove to be problematic for apartment communities. These policies typically require property owners to comply with federal Section 8 Voucher program specifications. Many of these produce a variety of concerns including, but not limited to; the delay in the leasing of the unit, liability concerns, as well as, significant cost increases for the property owner.
---
State Advocacy
AAGO's partnership with the Florida Apartment Association has never been stronger, and our members have directly benefitted from the advocacy efforts at the state level. In 2019, FAA passed two bills that protected the industry by clarifying the impact fee process, provided safeguards for inclusionary zoning ordinances, and nearly passed legislation allowing for verification of emotional support animal legitimacy. Read more about the 2019 session here.
Be on the lookout for FAA alerts such as Criminal Screening Lawsuits (Disparate Impact) hit Florida. FAA Industry Alert.
Potential 2020 FAA State Issues:


Rent Control: HB 6013 (Rep. Eskamani, D-Orlando): Would remove FL's rent control preemption to allow local governments to pass rent control at the local level.
Tenants Rights: (Sen. Smith/Rep. Guillermo-Smith) Lawmakers are expected to introduce a sweeping renters' rights bills that will have a laundry list of erroneous requirements for property owners (Similar to HB 1283 from 2019). It will require landlords to produce leases in hundreds of languages, prevent evictions during a state of emergency (even if this person has committed a crime on property and falls under just cause eviction), and allow a resident to install wind resistant improvements on the property without the consent of the property owner, which could ultimately lead to damages that would later be covered at the owner's expense.
Housing Discrimination: HB 175 (Rep. Davis, D-Jacksonville): Would remove the requirement to exhaust administrative process for housing discrimination complaints, which would lead to frivolous lawsuits and drastically increase legal costs for property owners. This legislation has been introduced for the last several years and we've been able to fight it off year after year. However, last session the House and Senate companion bills actually almost made it to the floor. Therefore, we expect we will have to fight hard against this legislation in 2020.
Emotional Support Animal Legislation: FAA is exploring the possibility of pursuing ESA legislation in the 2020 session that would allow landlords to verify the authenticity of a resident's ESA request through a licensed practitioner. Similar legislation nearly passed in 2019.

National Issue Outlook: Click here for NAA/NMHC priority issues.
---
Engagement Opportunities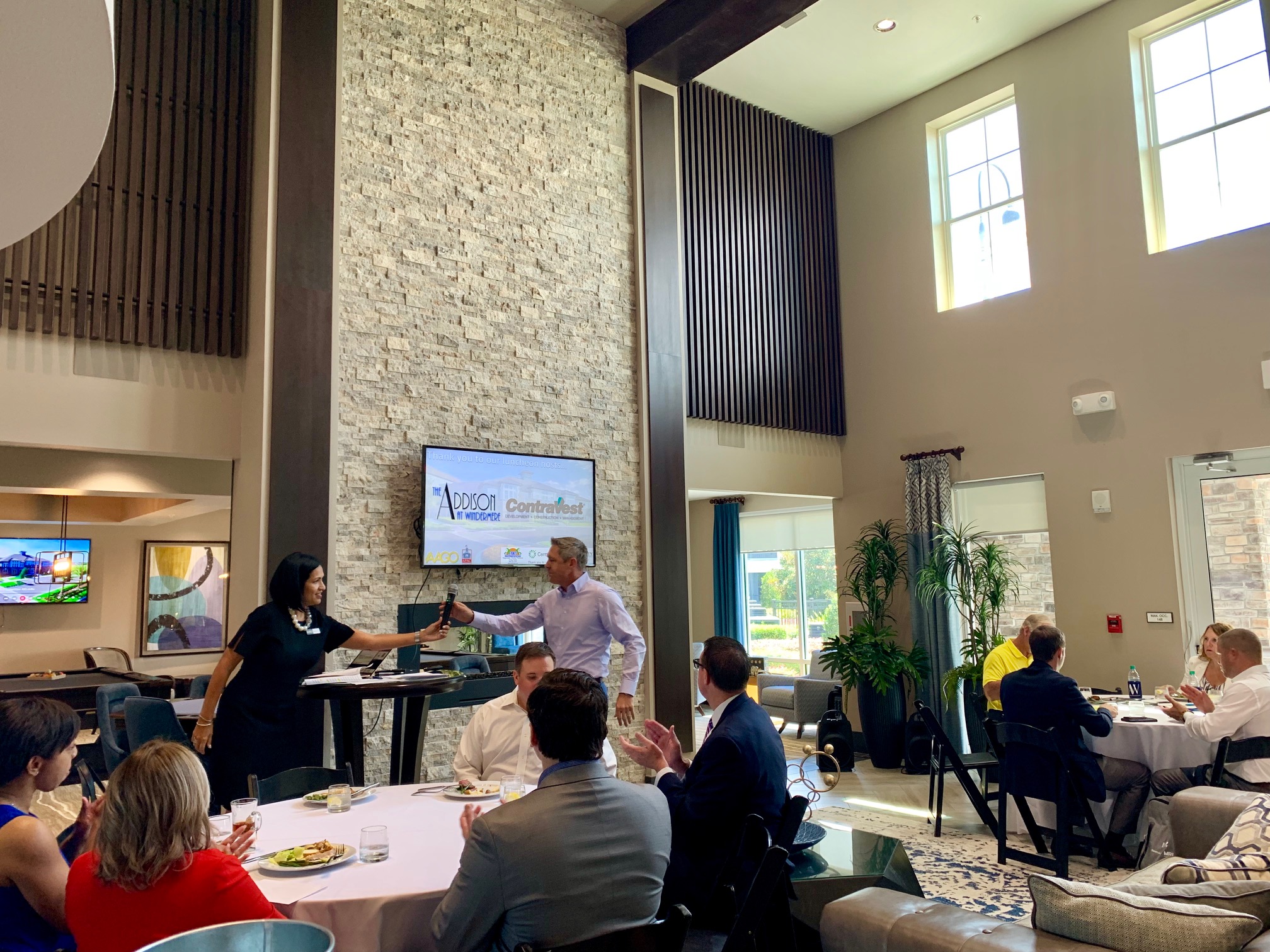 An important component of the AAGO Strategic Plan is providing specific programs and resources for multisite/regional managers, corporate support, and senior leadership for our members. In 2019 we hosted a meet and greet with Orlando Mayor Buddy Dyer at CityView Apartments, The Owners and Officers Luncheon at the beautiful Addison at Windermere, The State of the Market, "Science of Networking" Business Exchange, "Boots, Bling, and BBQ" to support APAC and NAAPAC, and so much more. We also produce content and information that are geared towards management and continue to develop new programs and services to support all aspects of the industry.
Coming in 2020

: The AAGO Board of Directors has approved "Professional Services Firm" as a new category of membership to provide additional resources for property management owners, operators, developers, and third party managers. "Professional Services" will include firms that provide knowledge-based, customizable, and highly technical services such as land use, consulting, brokerage, or intellectual services to property management. These firms can include attorneys, brokers, consultants, design, engineering, government affairs, financial services, etc.
As always, the AAGO team is ready and willing to provide any assistance we can to make your membership experience a great one! A full list of the AAGO Team is below for your reference.
AAGO Team
The AAGO team is the association's professional staff that is charged with ensuring an optimal member experience, and working with volunteer leaders to produce best in class education programs, events, networking opportunities, day to day operations, and industry advocacy.